Lil Kim Claps Back Hard At Fan Who Made Foul Comments About Her Daughter
Posted On : May 15, 2018
Back in the day, Lil Kim told us that what she needs in life is "money power respect" and the latter is why she's just stepped up to make sure she and her adorable 3 year old daughter, Royal Rein, gets it.
https://www.instagram.com/p/BhA3coRgPUe/
What Had Happened Was…
The other day, Lil Kim had to clap back at a hater-fan, who left a comment underneath Lil Kim's Instagram photo of herself and her daughter (below), throwing shade at Royal's clothes…
Commenter: "No offense- but you post photo after photo of yourself from all of these high definition professional photoshoots wearing top of the line fashion- but when it comes time to make one post about your daughter, the best you can do is post a blurry, crappy picture where she's wearing some regular crap and barely prepared for the photo? Kind of ridiculous where your priorities are."
Lil Kim didn't hesitate to shuttle commenter down, by politely letting them know her baby was fitted in designer clothes from head to toe…
Lil Kim to commenter: "Sweetie I'd have u to kno that she's wearing Gucci from head to toe but I wouldn't expect U to kno that! And if it wasn't Gucci she'd still be cute. Actually this shows where ur priorities r worried if my child is wearing name brand or not. Y r u so pressed? What's in ur child's closet? Chile bye!"
And in the words of Diddy, "Take dat, take dat, take dat!"
Don't Let The Petite Stature Fool U
The Queen Bee may be short in stature, but don't let that fool ya,' she has a history of ever backing down from beef no matter what- just ask Notorious B.I.G.'s ex-wife/singer, Faith Evans.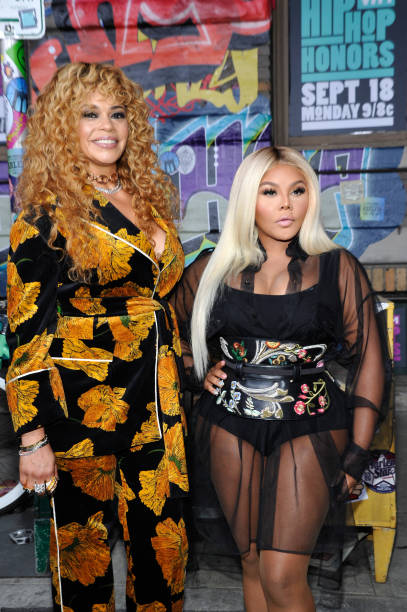 Faith revealed exactly what happened when she and Lil Kim had a fist fight over the Notorious B.I.G. back in the day. According to singer, Faith, Biggie's protege' can most definitely hold her own:
Via ILoveOldSchoolMusic- As most of us have heard by now, Lil Kim and Faith had an ongoing beef and an infamous fist fight over the man they were both in love with, Faith's deceased hubby, rapper, Notorious B.I.G. In a 2017 interview with DJ Kay Slay on Shade 45, Faith revealed that she and Lil Kim had MULTIPLE fist fights, not just that ONE we saw in the biopic, "Notorious," after Faith busted Kim and Biggie in that hotel room.

Apparently, there was a time when Lil Kim and Faith damn near came to blows on sight, whenever they came into close contact with each other! Faith said that the 4'11" Kim is "feisty" though and was able to hang with her as they traded blows. Faith also said that at that time, she, herself, was "fresh out the bricks" and Kim was hood too, so the way they'd earned to settle their disputes back then, was by handling it like that did in their neighborhoods.

Faith also admitted she was over her Lil Kim-Biggie beef YEARS ago and had tried to do a song with Kim, however Kim was far from over it. Faith said in 2009, when Kim was on "Dancing With The Stars," she ran into her backstage and tried to congratulate her, but she said Kim acted like "she didn't know me."
Dayumn…good thing they're on good terms now. Moral of the story: Don't mess with little Royal Reign's mama, unless you're about that drama.